Cutting-edge semi-hermetic ammonia screw compressors with internal high efficiency permanent magnetic motor. The build is compact and there is no open-type shaft seal. This eliminates the risk on ammonia leakage and reduces the downtime significantly.
The standard Chiller racks also provides the option for an open-drive ammonia compressor. For details see the folder "SCM Ref Standard air conditioning & Process Chillers, Open type compressor".
The three-stage oil separator is exceptionally efficient through the complete range of capacities and discharge gas velocities, separating the discharged oil from the screw compressor and returning it to the compressor after cooling down. The minimum amount of oil entering the refrigerant circuit is returned through an automatic controlled bleeding system.
SCM REF ammonia chillers are combined with air cooled or water-cooled condensers. Air cooled chiller includes two racks, which can be placed together outside or separately, chiller rack indoor and air-cooled condenser outdoor. The water-cooled chiller is installed as one compact rack. Outdoor positioned chillers are protected by strong industrial grade casings. They are designed to be weather proof, suitable for industrial and marine environments. Explosion-proof exhaust fans are provided as standard. Options for sound absorbing casing, internal mechanical cooling are available.
The horizontal or V-shaped layout air cooled condensers are equipped with EC axial fans and designed with integrated oil cooling loop.
The Chiller rack is Plug &Play prepared for connection to the dedicated condenser frame by robust prefabricated piping including flange connections. Eliminating any welding activity on site.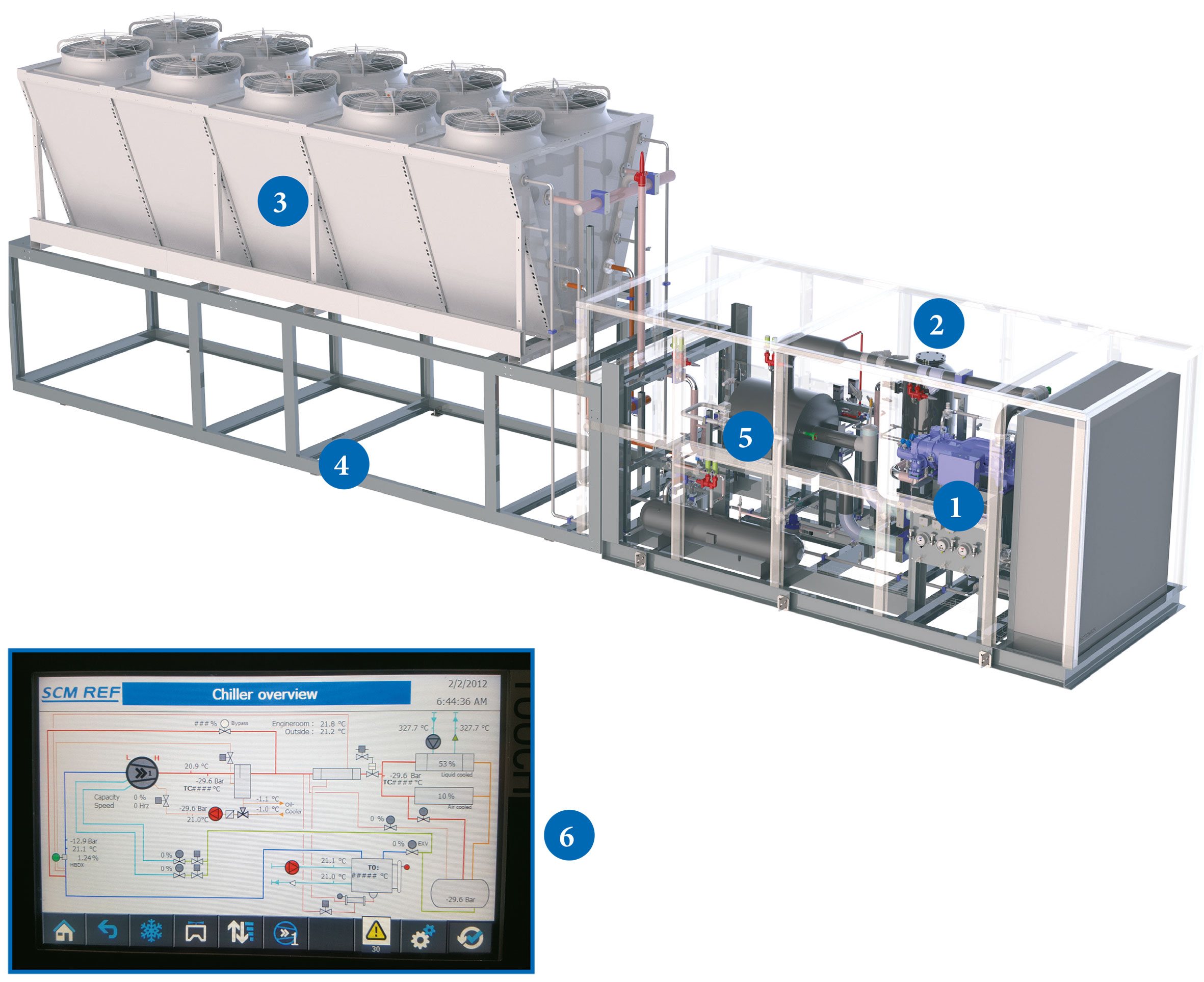 The compact and robust plate-in-shell heat exchangers are designed to be optimized for chiller application with stable thermal performance under different load conditions. Optional to configure for secondary constant and variable speed pumps. The patented plate profiles have been utilized for their proven high thermal performance.
The highly automated control system has many safety mechanism embedded, which work in harmony with an SMC SCM Ref developed chiller control software. The flow diagram and functions are clearly displayed on a full color 7" LCD touchscreen. The sophisticated control scheme has been developed by engineers with many years of field experience to prevent many possible issues. We make these chillers to be safe and easy to use. A router suitable for wired, Wi-Fi or 4G internet connection is integrated.