3D custom made design
Our units are produced custom made in collaboration with our customers. When the P&ID (Piping and Instrumentation Diagram) is ready we will design the units with SOLIDWORKS 3D. This will give a clear look for the customer how the unit will be assebled and where all the important connections are situated. We can even deliver to the customer a movie or exploded view of the 3D model, so that it can be viewed on all sides.
The 3D model is always equipped with the full and detailed product/parts list and unit specifications. With our team of specialised engineers we can produce nearly every unit for commercial and industrial refrigeration.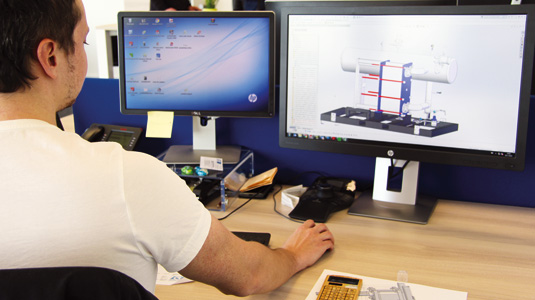 Our Engineering team has the highest level of experience and talent. We have the ability to do high quality assembling and a component stock for shorter delivery time. Our Ammonia academy will be based in Oirschot, for training and lecture.
SCM Ref production facility
Our units are produced in the ISO and PED certified SCM Ref production facility in Oirschot near Eindhoven. Obviously we have F-gas certification.
Our maximum building height is 10 meters. We can produce high cascade units in one time. With our own test facilities we can safely pressure test our units. We have an extortion space of 10 x 10 meters. The operation of that area is performed in a safe and separate adjacent room, from which all equipment can be operated. In our clear production hall we have 2 cranes with a total capacity of 5 tons and 2 cranes with a capacity of 10 tons. We are equipped with modern tools for producing high standard units. The room is conditioned by means of an air handling unit for cooling and heating. Also with separated floor heating.
Our modern production facility has a central exhaust system for smoke and toxic gases. This is equipped with a high-efficiency flue gas filter. The warm air is not discharged outside, but is purified and brought back into the interior. This saves heating capacity. In summer, the cooled air is also brought back to the interior in the same way and saves energy again. Each workplace has its own welding/brazing point and is obtained through a central gas and oxygen ring line. The gas supply (built up outside) is carried from the outside to the inside, creating an extra safe workplace.
We use liquid nitrogen to extort and to flow. We have two separated stainless steel welding areas and one steel welding area. Our workplace is equipped with mobile PC towers, so the installers can consult and view the 3D working drawings without
leaving their stations. Our team is always at your disposal. Contact SCM Ref and discover what we can do for you!